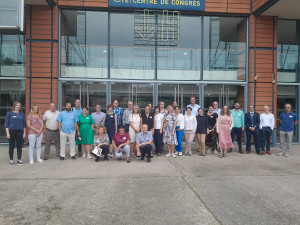 Our General Assembly was held August 26th and 27th 2023 in Lyon France. As it is our custom, it was set right before the EAAP meeting.
This important event of our network is an opportunity to review all the actions led by our community. Lot of work has been accomplished this year, with the drafting of our next action plan for instance, or the setting up of the first Ad Hoc Action common to ERFP and the EURC on Endangered Animal Breeds. Communication activities are also a big item, with the publication of the first time in ten years of a newsletter.
This meeting was also the occasion to elect new members in our Steering Committee, since the mandates of three of them was ending. A big thank to Christina Ligda (Greece), Jan Hendrik Schneider (Germany) and Ruta Šveistienė (Lithuania) for all their valuable work these last four years ! The General Assembly elected Melissa Raemy (Switzerland),  Georgia Hadjipavlou (Cyprus) and Gita Jansone (Latvia) for a 4 years term period, welcome to them and we are thrilled to get the occasion to work with you !
The General Assembly ended by a technical tour that let us discover a rare French cattle breed, the Ferrandaise, and a local sheep breed, the Rava. It was also a opportunity to try typical French cheeses (St Nectaire and Cantal, both PDO products) as well as to taste products transformed by one of the farm, the "Elevage Laforest", to valorise the Ferrandaise breed.