Tomas  Nemecek, member of the WG Documentation and Information
Jana Rychtarova, member of the WG on Ex situ conservation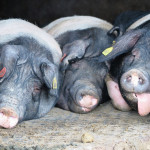 Prestice black spotted pig
During the 19th century, the local Bohemian pig was crossed with English and German breeds to increase its yield.
The flock-book was closed a first time in 1928 but due to declining numbers after Second World War, new crosses were performed with English and German breeds.
In 1964, the black spotted pig was recognized as breed. The breed was classified as a national genetic resource in 1992 and specific genetic management has been set up. Today, there are about 460 sows.
The breed is appreciated for being undemanding; having a good stress resistance, and maternal characteristics,  it is used mostly in organic farming.
Contact: http://www.schpcm.cz/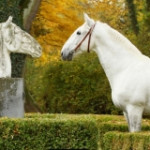 Old Kladruber horse
The history of Old Kladruber horse is nearly 450 years old.  He is probably the only horse breed that was raised specifically for the carriage of emperors and kings. White horses were used for ceremonial purposes of the imperial court, while the black horses were used for church ceremonies. After 1918 the Kladruby stud farm took over the Czechoslovak state and it was decided to preserve a small herd of whites, while the herd of black horses was sentenced to gradual liquidation in order to eliminate any reminiscent of the Habsburg dynasty, regardless of their historical values. In 1941 the black variant was regenerated from a very small number of animals that were saved. In present, the main breeding center is National Stud Farm in Kladruby nad Labem, which currently keeps about 500 Old Kladruby horses in two colour variations: black (267 horses) and white (246 horses). The total number of animals is estimated at 1 800.
Contact: https://www.nhkladruby.cz/