Alexander Makarevič, member of the WG on Ex situ conservation
Ján Tomka, member of the WG on Documentation and Information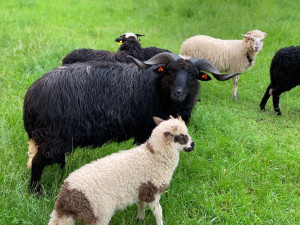 Valachian sheep
Data edited in 2019
The Valachian sheep is a three purpose breed (milk, meat, wool) adapted to mountain environment. It is a small sheep (ewes: 35 – 40 kg, rams: 45 – 55 kgs), with coarse wool, usually with horns in both sexes and quite often with colored spots (black or brown, entire black sheep exist too) on the head and legs. Like lot of hardy breeds, it is not precocious and the ewes are not bred before 16 to 18 months. The breed was used to create the most widespread breed in Slovakia now, the improved Valachian. It is endangered now with very limited number of animals, including a nucleus farm. In 2018 there were 820 purebred ewes and 37 purebred rams registered in the herdbook. Small populations are present also in other European countries including Czech republic and Germany.
Contacts: http://zchok.sk/plemena-oviec/ – https://sk-sk.facebook.com/pages/category/Agricultural-Cooperative/Klub-chovate%C4%BEov-p%C3%B4vodnej-vala%C5%A1ky-1314757645211714/
Pinzgau cattle
Data edited in 2019
Pinzgau cattle was introduced in Slovakia from regions that belong now to Austria in the 1830s. This three purposes breed (meat, milk, labor) was very popular in Slovak region those days and was used also for crossing with the local Carpathian red and Carpathian grey cattle. Pinzgau cattle is raised mostly in mountain and foothill districts of northern Slovakia. In the 1970s, the main demand which was to improve the production capacity of milk breeds in Czechoslovakia led to crosses with Ayrshire, German Rotbun and lately Red Holstein. Since this breed is transboundary, there have been regular imports of animals and bulls semen from Austria. Nowadays, most animals are kept on farms mainly specialized on milk production, but there is a trend of transforming towards beef production. Animals are well adapted to extensive systems in mountainous environment, and are providing ecosystem services linked to grazing. Nowadays there are around 800 purebred cows and 30 purebred bulls registered in herdbook, and around 800 cows registered in beef section of herdbook.
Contacts: https://www.facebook.com/pinzgausky/ – http://www.pinzgau.sk/