Anna Zeltkovska, member of the WG In situ conservation
Dainis Rungis, member of the WG Ex situ conservation
Latvian local goat
The Latvian local goat is the only national goat breed in Latvia. It was created as results from the mix of the local population with a wide variety of international breeds (Russian local, Megrel breed and then German breeds – Togenburg and Tiring breeds and finally French Alpines). At the beginning of the 1980s, Latvian local breed goats improved by crossing the population with Zane goats (Czechoslovakia), which was reinforced in the nineties with some new gene flow from the same breed. The result was successful and nowadays the breed is renowned for its high reproductive capacity, excellent meat quality, good health and high resistance to various diseases. It is used mostly for milk production but it also produces good quality meat. It is a medium size breed with a wide variety of colors, the hair being of medium length. The breed is at risk of extinction and therefore closely monitored by the Latvian government bodies.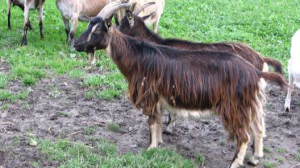 Latvian Blue Cow
The Latvian Blue Cow breed is an ancient local milk breed. It is a very resistant breed and these cows well adapted to the poor forages provides by the coast with sandy soil feeding conditions. Now the Latvian Blue Cow can be found in the  all territory of Latvia, mostly in small herds between 10/20 dairy cows.. Latvian blue breed cows are medium or slightly below average height animals. Their distinct feature is their blue coat, which varies from frost and gray blue to distinct blue. This breed is extensive  and the highest level of milk production animals reaches at 4/5th lactation. The breed is at risk of extinction and therefore closely monitored by the Latvian government bodies.
Latvian Blue Cow breeders have their own Facebook group where they share their achievements and news: https://www.facebook.com/groups/855127135087758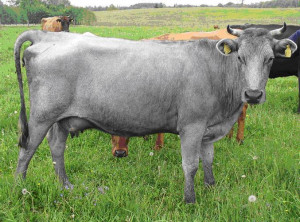 Latvijas Ardenis
The Latvijas Ardenis or Latvian Ardennes is a draft horse, with a small (150-160 cm) but strong and compact body. The Latvian Ardennes are characterized by a calm, balanced temperament with a tendency for being phlegmatic. They are very cooperative and easy learner. The constitution of their body is heavy and  strong.
The breed is used mostly for all types of agricultural work but also reiterotherapy, or even riding classes as his temperament is great for beginners riders. The mares are good milk producers which is why they are also used for milk production.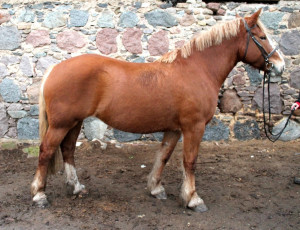 Latvijas Baltā
The Latvijas Baltā or Latvian white pig breed was created in the 20th century by improving local pigs with the Great White (Yorkshire) breed. The Latvian White Pig breed was recognized as a breed in 1967 for bacon production.
The typical characteristics of Latvian white pigs are white skin color, small steep ears slightly pointed to the side, strong body structure, and a heavy life weight.
The breed is acknowledged for its high stress resistance, vitality, good "mother" characteristics, high milk yield, low aggression, high fertility, good piglet preservation skill, high feed conversion and excellent meat sensory properties.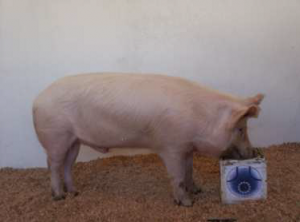 Latvian horse breed
The Latvian horse breed, which is the common horse breed in Latvia, selected by Latvian farmers with two types – riding and spor The local small horses of Vidzeme and Kurzeme were known for being strong, hardy, but agile horses of small stature (around 145 cm). They were well adapted to the local natural climatic and economic conditions. In the 1920s, two types of Latvian horse were created and the local breed was improved by crosses with the Oldenburg, Hannover and Holstein breeds.
The characteristic features of the Latvian breed of riding type is their trustworthy nature and balance temper. These qualities are essential when using horses for tourism, horseback riding and horse riding schools with children.  The horses are large, with an elongated body, strong and voluminous muscles, and a strong skeleton.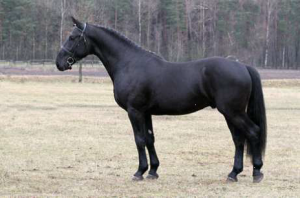 Latvian Brown cow
The Latvian Brown cow is the main breed of dairy cows in Latvia. Initially, the Latvian brown cow was registered in 1911 as the Latvian Red-brown, but the Latvian Brown breed was approved in 1922. The Latvian Brown is a reddish-brown cow with darker legs and head, and a dark grey muzzle. These animals are productive, resilient, of relatively low maintenance, long life span and good reproduction rates, well-adapted to the local climate. Latvian Brown cows produce high quality milk with high protein and fat content and has also good meat properties.