Leonid V. Vishnevsky, member of the WG  Documentation and Information
Svetlana i.Kovtun, member of the WG on Ex situ conservation
New-Olexandrian draft horse breed
The Ukrainian autochthonous horse breed is a draft horse that was created in 1868 by crossing the local population (partially improved by different crosses) with the Ardennes breed, and in a less extent with Brabançon and Percheron.
The breed was mostly the product of the Novoalexandrovsky stud from 1917 till 1960. The horses were then called Russian Ardennes and the stud farm became one of the largest one for breeding draft horses.
Nowadays, most of the breeding farms are concentrated in the Sumy region in  4 stud farms and about 40 private owners . There are about 80 breeding mares three years of age and older and 8 breeding stallions.
It is a small horse on average (about 150 cm), with a quite light stature for a draft horse. It is appreciated for its endurance, good balanced temperament and longevity. It is used mostly for agriculture and transportation use.
Photo by https://commons.wikimedia.org/wiki/User:Star61
The Brown Carpathian breed was created at the base of Ryzhka cattle, which were descendants of the ancient brown Carpathian cattle which were spreadthroughout Central Europelike ancient variety of Brown Swiss. During XXth century Ryzhka was crossed with different varieties of Alpine breeds – Montafon, Algaus, Swiss. The breed was recognized as a new breed in 1972. It is dual purpose (milk and meat) breed. Nowadays there are no official breeding herds in Ukraine, at the end of previous century and till 2012 it could be found mostly in Zakarpattia region and some mountainous areas of Ivano-Frankivsk region. In 2019 there was a project, kindly provided by FAO, which financed search of phenotypically pure Brown Carpathian cattle in Ukraine in private husbandries. The animals are characterized with typical "brown" coat of different shades that can vary in intensity. It is average sized cows (400 /500 kg), with a strong body constitution and good udder development. While the milk production is rather low (3000-4000 kg ), it is balanced by a good meat productivity (slaughter yield between 55-58%). Its main strong points is its adaptation to local environment, with good maternal qualities and high fertility. The milk is used to produce high quality hard cheeses and baby food.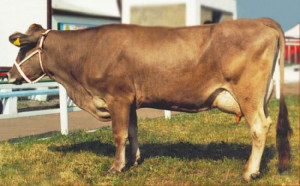 Pictures by www.khustnews.in.ua